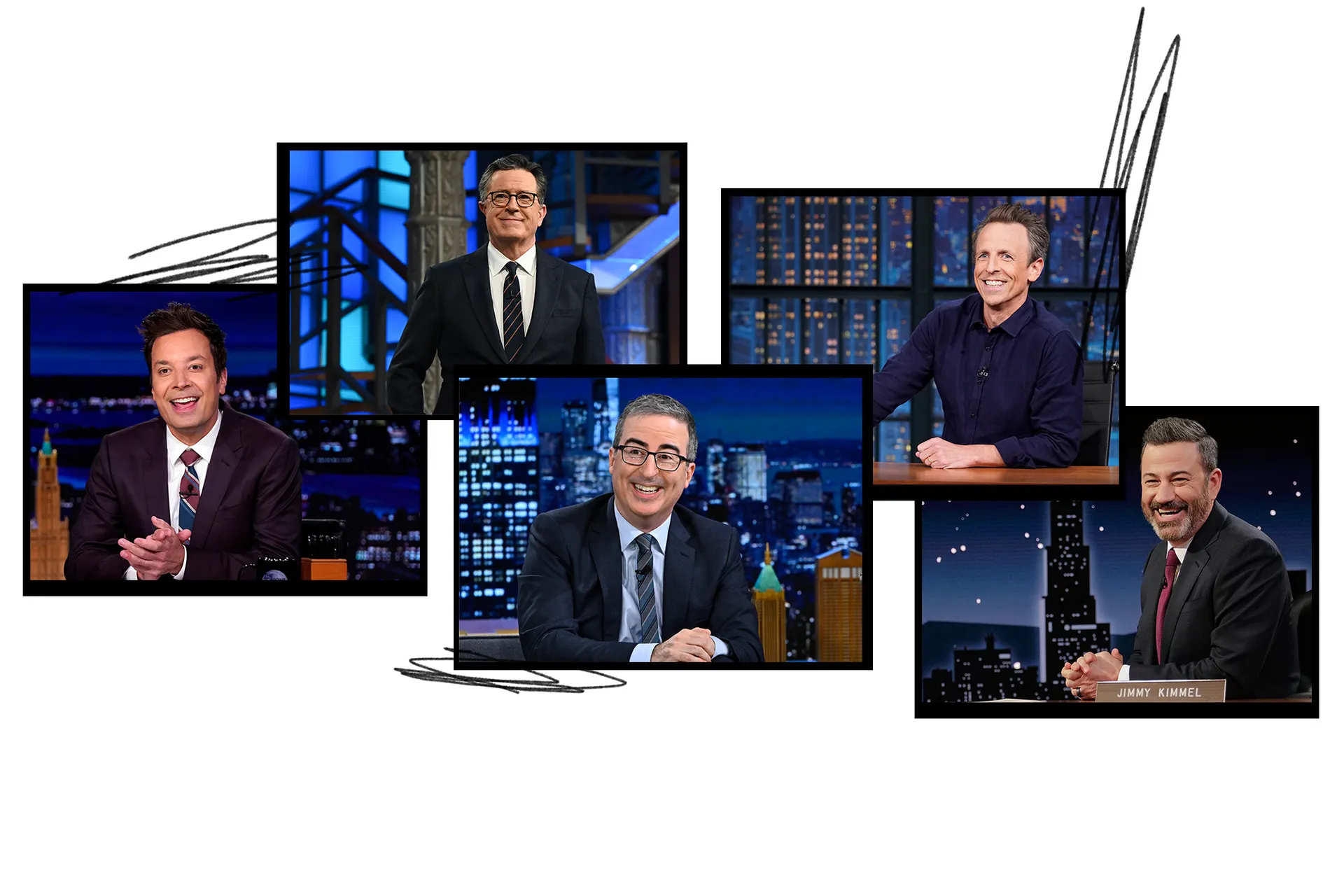 Late-Night Hosts Team Up for a New Podcast as Strikes Drag On
I
t's been 120 days since Hollywood writers went on strike—and just as long since Stephen Colbert, Jimmy Fallon, Jimmy Kimmel, Seth Meyers, and John Oliver have hosted new episodes of their late-night TV shows. Though they've been unemployed, the late-night hosts—who themselves are all members of the Writers Guild of America—have found ways to stay busy. Late Night's Meyers moderated a conversation with The Hold Steady in May, Late Show's Colbert took a break from serving ice cream on the picket lines to chat with Jim Gaffigan at New Jersey's North to Shore Festival, and Tonight Show's Fallon performed at Yankee Stadium during the Jonas Brothers' tour. All five hosts have also, apparently, been meeting weekly via Zoom, and they're ready to share the contents of those calls with the world as a podcast. Their new limited series podcast, Strike Force Five, will debut Wednesday from Spotify. It's expected to run at least 12 episodes and will feature a rotating host for what's being billed as "hilarious and compelling conversations." Mint Mobile and Aviation American Gin-owner Diageo are signed on as co-presenting sponsors of Strike Force Five (both companies have connections to Ryan Reynolds, though he's not directly involved in the podcast). All proceeds are being promised to out-of-work late-night TV staffers.
The late-night shows—which are typically written hours before they are taped—were among the first casualties when writers put down their pens on May 2. The Late Show, Jimmy Kimmel Live!, The Tonight Show, Late Night, and Last Week Tonight all immediately went on hiatus, as did Saturday Night Live and The Daily Show, which is still without a permanent host following the departure of Trevor Noah in December. At the time, Fallon and Meyers reportedly dipped into their own pockets to support their unemployed crews for an extra week beyond the two-week pay that NBC offered.
It was during those early days of the strike that the late-night hosts began regularly meeting on Zoom to discuss the issues at hand. The camaraderie among the group apparently extends back to at least the pandemic era when all the late-night shows had to deal with unprecedented production challenges.
During the last writers strike in 2007-2008, late-night shows went off
the air for around eight weeks, but eventually resumed taping new
episodes without their writers. "The strike basically wiped out all my
savings," Kimmel, who was among the hosts who paid staff out of pocket
during the 100-day work stoppage, later told The Hollywood Reporter.
"I also felt if we stayed off the air, it was going to do permanent
damage to our shows." This time, Hollywood is grappling with not just a
work stoppage for writers but also actors, who began their own strike on
July 14. It's hard to imagine the late-night shows, which are typically
key stops for actors promoting new movies or shows, would be able to
resume while both writers and actors are on the picket lines. Strike Force Five, then, seems like the answer for anyone who's been missing the regular presence of a Jimmy in their life.
Source: Vanity Fair