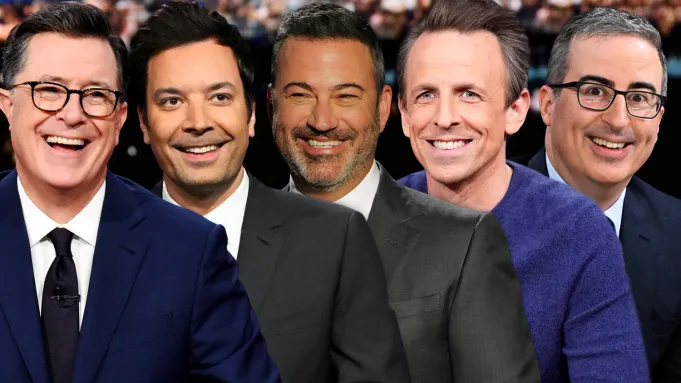 Late-Night Hosts Switch To Podcasting To Fund Out-Of-Work Staff
Stephen Colbert, Jimmy Fallon, Jimmy Kimmel, Seth Meyers, and John Oliver are launching a limited podcast series about their experiences navigating the writers and actors strike.
The group, who were some of the first to down tools when the WGA called its strike in early May, are launching Strike Force Five on Spotify.
The proceeds from the show, which launches on August 30 and is sponsored by Mint Mobile and Diageo, will go to out-of-work late-night staff from their shows.
It is the latest venture by the hosts of The Late Show, The Tonight Show, Jimmy Kimmel Live!, Late Night and Last Week Tonight to help those affected by the strikes. The group have regularly provided treats, including ice cream and lunches, to those on the picket lines and many of them were paying out of pocket for their staffs that have been unable to work for the last four months.
The series will run for at least 12 weeks with all hosts participating in each episode and rotating who leads the conversation.
It comes as the late-night hosts started speaking on Zoom once the WGA strike was called, meeting every week to discuss the stoppage. It's a far cry from the late-night wars of the 90s and 2000s.
It's the second time this year that many in the group have come together to support one of their own; Colbert, Fallon, Kimmel and Meyers all participated in a video for departing Late Late Show host James Corden in April.
The strikes have seen a number of these hosts get into podcasting as a way to pass the time. Meyers launched Family Trips with the Meyers Brothers earlier this year with Oliver as one of his guests.