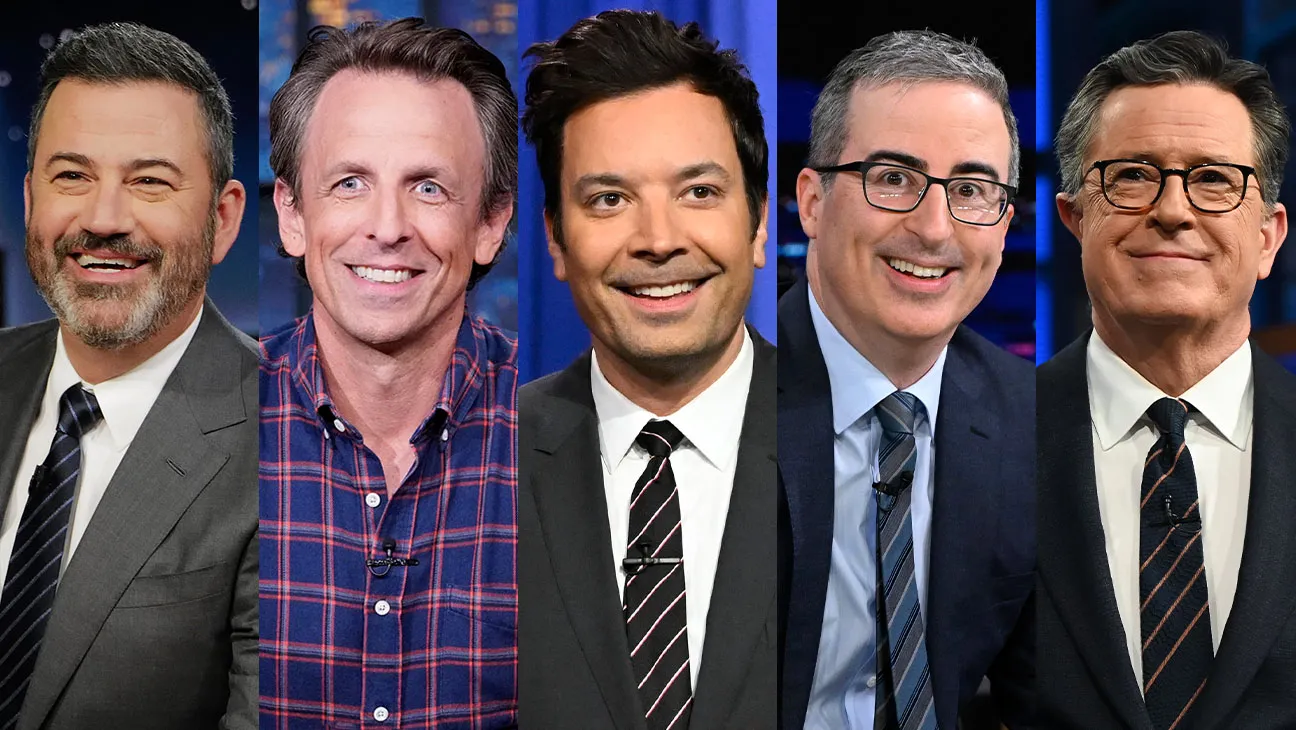 Five Late-Night Hosts Unite to Launch Podcast Benefiting Strike-Impacted Staff
Add Your Heading Text Here
The quintet announced Tuesday that it would release a limited Spotify podcast, aptly titled Strike Force Five. The arrangement is said to call for at least 12 episodes, which will begin rolling out Wednesday, Aug. 30. Each episode will have all five of its hosts participating in the conversation, though who's leading it will rotate. The hosts will then give all proceeds to the out-of-work staff from their respective shows.
The concept was born out of weekly Zooms that the late-night hosts have been holding since the WGA strike began in early May. The virtual check-ins have been a way for the five men to be aligned during the strike, which saw all of their shows — Jimmy Kimmel Live, The Late Show With Stephen Colbert, The Tonight Show Starring Jimmy Fallon, Last Week Tonight With John Oliver and Late Night With Seth Meyers — go dark immediately. Of course, with five suddenly unemployed comics, the conversation quickly evolved beyond the work stoppage, as it's expected to do on the podcast.
The degree to which these hosts are friendly with each other and increasingly collaborative can come as a surprise to the industry's late-night chroniclers, who remember bitter rivalries and the infighting among past hosts. Late-night historian Bill Carter once got two books — Late Shift and The War for Late Night — out of the tensions between Jay Leno and David Letterman and, later, Leno and Conan O'Brien.
These days, late-night's hosts have not only been friendly guests on each other's shows but, in the case of Kimmel and Fallon, even swapped staff and shows as part of an April's Fools Day prank. As the dual strikes dragged on this summer, Oliver and Meyers even did a few sold-out nights of stand-up together. Oliver also appeared on Meyer's other strike-time podcast, Family Trips With the Meyers Brothers, where Oliver shared stories of his family camping trips.
Earlier this spring, most of the Strike Force Five hosts plus Letterman and recently departed Daily Show frontman Trevor Noah came together to film a skit for James Corden's late show sign-off, during which Corden noted, "When I first moved here to America to take over the show, all I would hear was talk of the late-night wars, then I came to realize we're not a war, we're a family."
Source: Hollywood Reporter