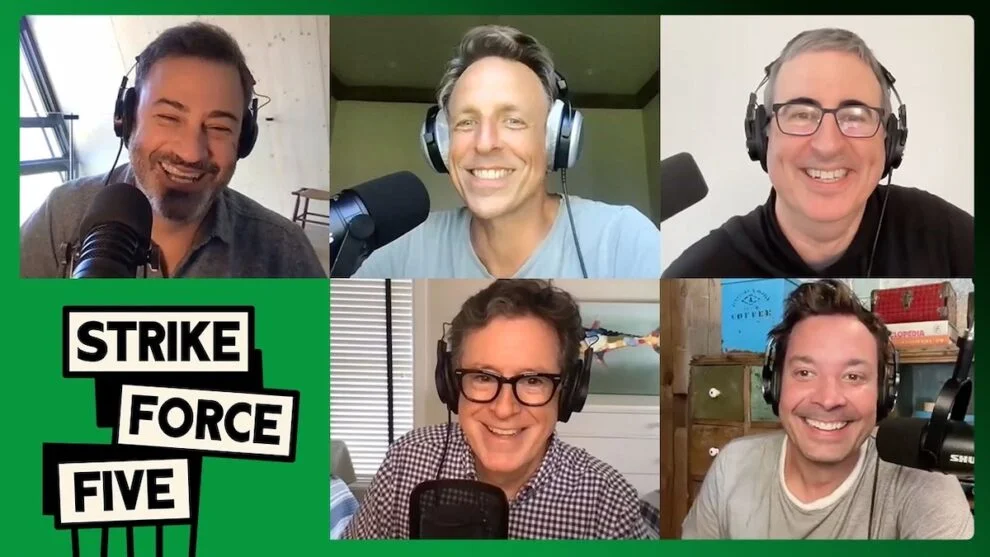 Late-Night Hosts' Podcast 'Strike Force Five' Tops Spotify, Apple Charts in Debut Week
"Strike Force Five," the podcast started by late-night hosts Stephen Colbert, Jimmy Fallon, Jimmy Kimmel, Seth Meyers and John Oliver amid the ongoing Hollywood double strike, has climbed to the top of Spotify and Apple Music's podcast charts within two days of its premiere.
On Friday, the first episode of the series stood as the No. 1 podcast on Spotify and Apple in the U.S. and also the top news podcast on both.
The podcast will release its next episode on Sunday, Sept. 3, as the second of at least 12 episodes of the series.
"Strike Force Five," which was inspired by weekly conversations the hosts began having at the onset of the WGA strike, benefits out-of-work staffers from the hosts' shows, who have been on strike since May. All proceeds received from the podcast will go to staffers from "The Late Show with Stephen Colbert," "The Tonight Show Starring Jimmy Fallon," "Jimmy Kimmel Live," "Late Night with Seth Meyers" and "Last Week Tonight with John Oliver."
During each episode, the podcast gives fans an inside look at the hosts' ongoing discussions surrounding the complexities of the historic strike raging across the entertainment industry. All five late-night hosts participate in each episode, while they rotate which late-night legend moderates the episode.
The podcast builds on the late-night hosts efforts to provide for their staff during the strike, as Kimmel, Fallon, Colbert and Meyers were among the hosts to give financial support to their writers almost immediately following the strike's authorization on May 2.
The first episode was highlighted by Kimmel's revelation that he was "intent on retiring" from his late-night ABC hosting duties before the WGA strike began, but that the labor action put the job into perspective.
"And now I realize like 'Oh yeah, it's kind of nice to work,'" Kimmel said. "When you are working you think about not working."
"Strike Force Five" is hosted on Spotify's Megaphone, and Spotify serves as the exclusive sales partner for "Strike Force Five." The venture is also supported by Mint Mobile and Diageo (with brands like Aviation American Gin, Bulleit Frontier Whiskey, Casamigos and Ketel One Vodka) as co-presenting sponsors.
Source: The Wrap