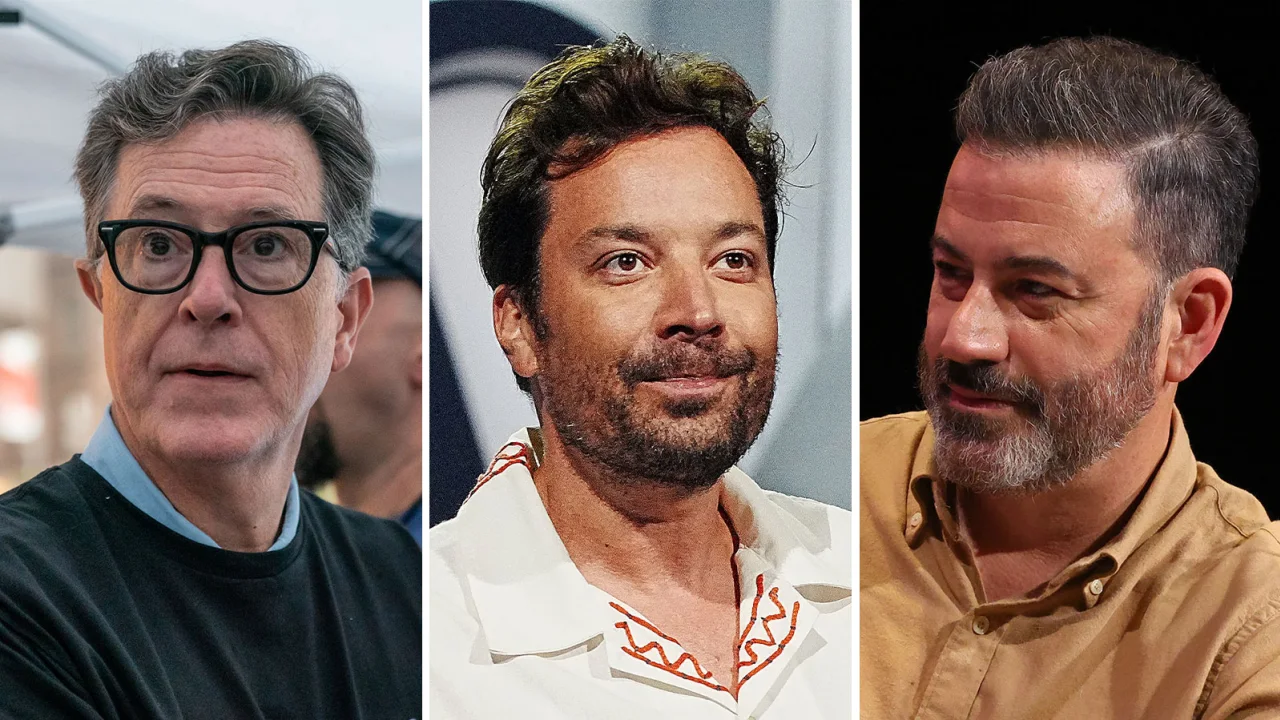 Topping podcast charts, 'Strike Force Five' gives a public face to the writers' strike
Bill Maher prides himself on cutting against the grain of what he sees as conventional wisdom. So when the host spoke on his "Club Random" podcast over the weekend about Hollywood's ongoing strike impasse – calling certain Writers Guild demands "kooky," and claiming that some "believe that you're owed a living as a writer, and you're not" – he once again starkly separated himself from his late-night contemporaries.
Indeed, Maher's talk-comedy brethren (and it is, indeed, a boys' club right now) have united to support their fellow writers and employees, with Stephen Colbert, Jimmy Fallon, Jimmy Kimmel, Seth Meyers and John Oliver teaming up for their own podcast, "Strike Force Five." In doing so, the comics, who strongly identify with the striking writers, have given a public face to a guild that has traditionally lacked that kind of sizzle and star power when trying to drum up public sympathy for its cause.
That point of differentiation from actors became clear when the Screen Actors Guild joined the labor fray in July, with its president, Fran Drescher, the former star of "The Nanny," articulating the unfairness of the current contract. Drescher's press conference garnered far more media attention than anything the WGA leaders had mustered during their two months striking alone.
"A simple message, dramatically communicated, from a face that most people recognize," Puck News' Matt Beloni tweeted at the time. "This is why an actors strike is so dangerous to studios."
Writers have often stood at the vanguard of pushing for fairness and concessions from the major studios, known as the Alliance of Motion Picture and Television Producers, or AMPTP (of which CNN parent Warner Bros. Discovery is a member). Yet the public display of camaraderie among the late-night gang represents a departure from past strikes, most recently in 2008, when there was little love lost between David Letterman and Jay Leno, who fronted the two most popular post-late-local news viewing options.
The hosts of "Strike Force Five," which debuted at the top of Spotify and Apple's podcast charts this week, are using proceeds from the show to raise money for personnel on their shows impacted by the strike – not only writers, as Kimmel noted in the podcast, but "Everyone that works on a TV show who is out of work right now."
While it's not unusual for performers to express solidarity with their writers, the late-night dynamic is unusual, since the comics who host these shows not only participate in writing their material but serve as members of the staffs, as anyone who has watched the Emmy presentation of that category will recall. The writers also regularly turn up in comedy bits on the shows. (Even Maher pointed out on this week's podcast that he wrote for his show and stated appreciation for his writers, before deriding the concerns of some of those walking the picket lines alongside them.)
The sad irony is that late-night ratings were already in decline before the strike, amid shifts in TV viewing patterns driven in part by streaming. Trevor Noah and James Corden left their shows last year, thinning the roster of high-profile talent.
The months-long strike likely won't help in terms of further eroding the already-fraying habit of people tuning in to watch those shows daily, and could very possibly exacerbate the problem.
For now, though, Colbert, Fallon, Kimmel, Meyers and Oliver still command a fair amount of attention, and thanks to Colbert (who Kimmel credited with suggesting the "Strike Force" collaboration), they're putting it to use.
On their first episode, the hosts also voiced a shared hope that the strikes would be over soon, with Colbert noting that people keep asking him how he's enjoying his extended "vacation."
"This is like a vacation in the same way a colonoscopy is like a nap," he said.
Source: CNN